by admin on Feb.05, 2012, under The General Pursuit
Listen to this portion of audio revealed in the newly discovered tapes.
Audio clip: Adobe Flash Player (version 9 or above) is required to play this audio clip. Download the latest version here. You also need to have JavaScript enabled in your browser.
It specifically states with detail that Kennedy fell face down.
. . . this is the situation room, I read from the AP bulletin: Kennedy apparently shot in head. He fell face down in back seat of his car. Blood was on his head. Mrs. Kennedy cried "Oh No!" and tried to hold up his head. Connally remained half seated, slumped to the left.
Now watch the Zapruder film in slow motion:

Upon reviewing the video, it is obvious that Kennedy's head was never "face down." Was this an innocent mistake to be chalked up to reporting in the "fog of war?" Or, was this the beginning of the myth that Kennedy was only shot from behind by a lone gunman named Lee Harvey Oswald?
Colonel L. Fletcher has long claimed that the Christchurch Star, a New Zealand newspaper, published way to much on Oswald way too soon. Click here to read about his contention.
Click here to see the front page of the Christchurch Star on Saturday November 23rd, 1963.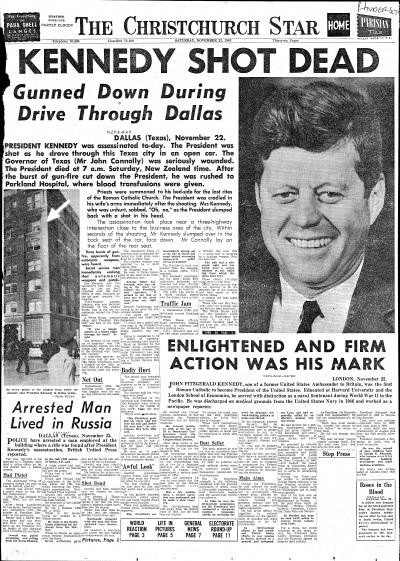 :Abraham Zapruder Film, Christchurch Star JFK, Christchurch Star November 23rd 1963, Initial AP report on JFK planted, L Fletcher Prouty Christchurch Newspaper, New JFK Tapes, New Zealand Newspaper Fletcher Prouty